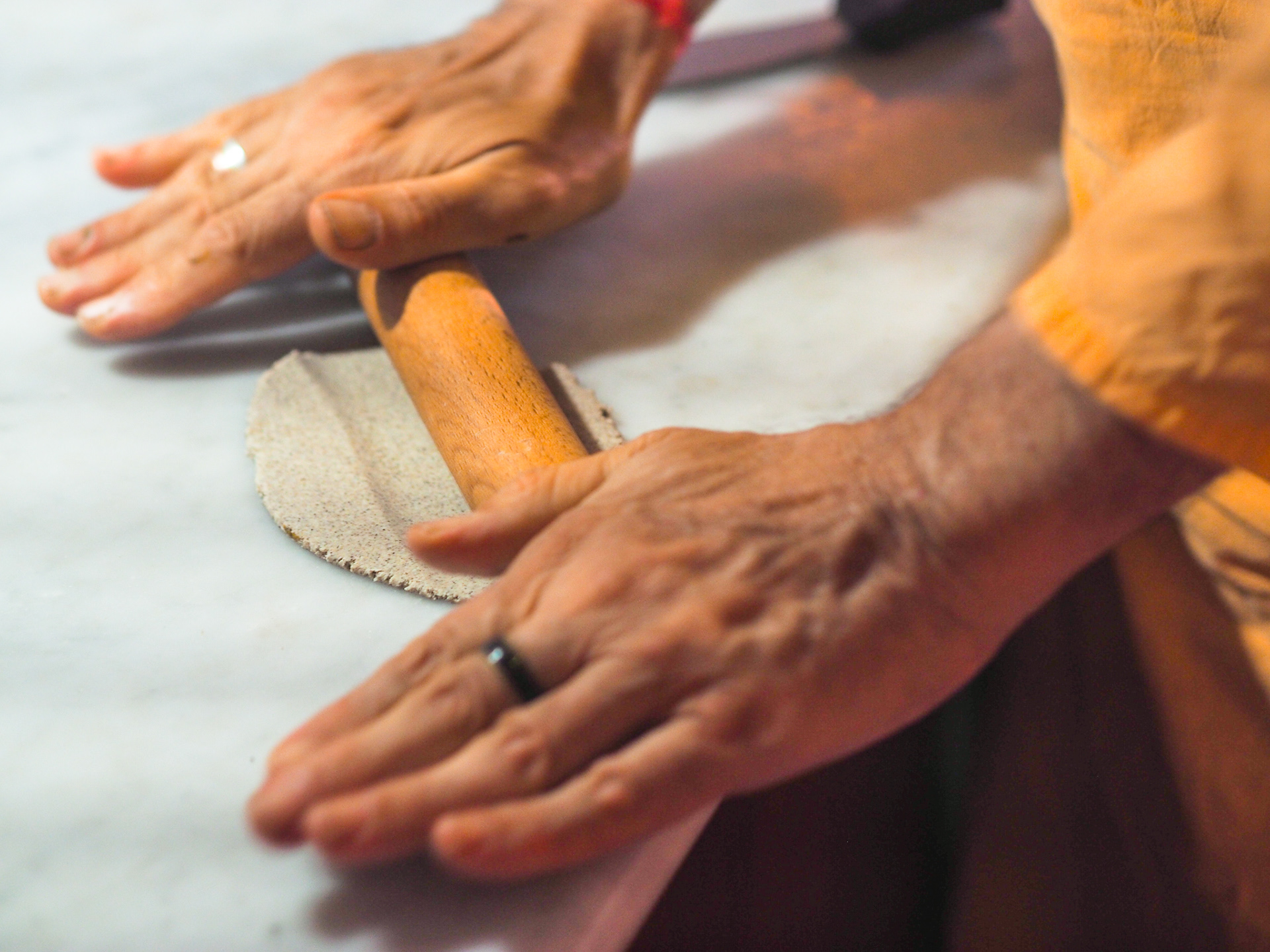 Learn yoga and nutrition from a yoga master with more than 30 years of experience. Everywhere, there are people eager for the flavours and knowledge of Mother Earth. Almashala is happy to share in joy and love, all seasoned with a lot of friendship and joy of sharing tasty dishes and original natural and vegan recipes.
The yoga practice follows the tradition of the ancient Ashram Shivananda in Rishikesh where Gino Sansone graduated in 1986 and had been a student for 14 years.
Nourish your body and mind with Natural food and Yoga.
Daily  Cuisine Workshop Mediterranean, Vegan, Ayurvedic, and Macrobiotic.
Daily class of Hatha Yoga, Asana and Mantra  according to the tradition of the Shivananda Ashram.
Opportunity to relax and explore the beautiful surrounding of Sintra and Ericeira,
Program suitable for all levels.
7 nights accommodation.
"A balanced and healthy diet is important as a practice for us"
Gino Sansone, Ramanuja is a teacher of natural vegan food and cuisine, according to the knowledge and flavors of the Mediterranean tradition, Ayurveda and macrobiotics.
Ideally, a yogic diet would be rich in
sattvic 
food,  fresh vegetables, whole grains and vegetables, light spices and lightly sweet foods.
According to Ayurveda, this is the best diet to adopt.
It helps to keep your mind clear and sattvic and makes you feel good physically and emotionally.
Ramanuja Acharya Das (Gino Sansone)
Ramanuja Acharya Das is a Master of Yoga and founder of the School of Integral Yoga in Naples, Italy, since 1986. He is a graduate professor at 'The Yoga Vedanta Forest Academy' of the Divine Life Society of Rishikesh, Himalayas (India), after studying for fourteen years with his master Sri Swami Yogaswarupananda Saraswati, president of DLS and Tutor of the School of Integral Yoga since 1987. In 1985, he was an initiated member of the RamaKrishna Mission with Master Swami Ritajananda Maharaji, at the Center Vedantique Ramakrishna (France) . He has been a meditation master of Shri Vaishnava Ashrama since 2008, a member initiated by Sri Sri 1008 Damodara Achrayajidal 1986 at the Savamana Salagrama Mandir in Vrindavan (India) in 1986. Artist, graduated from the Academy of Fine Arts in Naples, has been the focus of the Yogic-Shamanic Theater Laboratory since 1980.
More details are on your way....
The funds will be entirely donated to support the free activities of the School of Integral Yoga since 1986, Social Yoga with spiritual, humanitarian, social, environmental and for animal rights and Almashala Yoga
Om Shanti.